CoinSpectator is a well known and extensively used news aggregator among the crypto community. Originally created as a blog in 2013, CoinSpectator is maturing into a popular platform for curious individuals to find breaking crypto news and also the latest on ICO projects. Its polished platform combines a simple user interface that allows readers to sift through real-time, breaking news in a painless, carefree manner.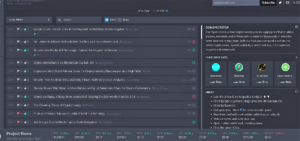 The News/Blog Aggregator Breakdown
Breezing through the homepage of CoinSpectator.com, a reader will find ease in searching for the latest news through the real-time aggregator. Interested in the top news of the day? Not a problem. A simple click on the "Latest News" tab at the top of the screen will give you an option for the "Top News" of the past 24 hours. There, you will typically find your big name news outlets. Those might include, for example: CNBC, The Washington Post, and The New Yorker (the top 3 most noteworthy while writing this article).
Not interested in news and want to read something a little more personal and potentially closer to the source? Click the "Blogs" box at the top of the screen to either add them to your news feed, or simply receive blog links by themselves.
Clicking on a news/blog link will create a preview in the box to the right side of the page. From there, you can typically catch the first 3 paragraphs of an article before finding a prompt at the bottom to "Read in Full." Click on the prompt and it will generate a new tab in your browser for the full article on the original article homepage. (Pro-tip: Scroll through the news articles in the aggregator to see multiple previews before choosing your go-to publication.)
Additionally, an easy to use "…search" box can be found on top of the screen to filter any specific news that may pique your interest.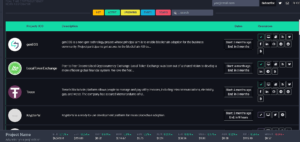 Want Updates On ICO's?
Are you on the hunt for the right ICO? CoinSpectator can help you there, too! They've included a full list of all on-going ICOs along with a quick blurb on each. Additionally, they've added multiple options for you to complete even more research or contact these ICOs through Telegram, Twitter, Email, and website buttons on the right side of the page.
At the top of the page, you'll see an ICO categories' filter to break down this daunting list into a more manageable researching vessel. You can choose from the 5 following options: Hot, Active, Upcoming, Over, and Scam. Ah yes, the old Scam category, a Crypto Block Wire favorite!
There are several other clever features to use on CoinSpectator.com. I urge you to head over and check it out for yourself!
RISK DISCLOSURE
This article should not be taken as, and is not intended to provide, investment advice. Users are ultimately responsible for the investment decisions he/she/it makes based on this information. It is your responsibility to review, analyze and verify any content/information before relying on them. Trading is a highly risky activity. Do consult your financial adviser before making any decision. Please conduct your thorough research before investing in any cryptocurrency and read our full disclaimer.
Join our Telegram Group To Stay Up To Date With Crypto News