When you take a look at the charts, the NASDAQ and Bitcoin (BTC) compare quite similarly. A recent analysis by experts at Morgan Stanley finds stunning similarities between NASDAQ and Bitcoin. However, as Business Insider notes, Bitcoin seems to move 15 times faster than the establishment stock exchange.
Crypto-Market is Faster than NASDAQ
The analysis indicates that NASDAQ's performance over a 15-year period compares quite similarly with Bitcoin's 2018 performance. The two overlapping charts below indicate this relationship through February 2018.
Bitcoin 2018 Prices vs NASDAQ Historical Data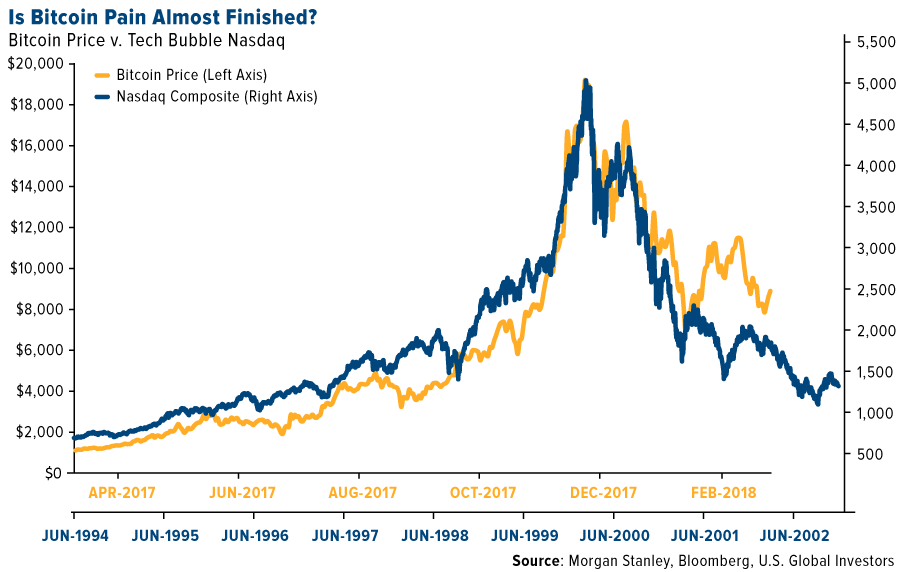 Source: Morgan Stanley, Bloomberg, U.S. Global Investors
However, the most interesting analysis is for the third quarter of 2018. Since September, Bitcoin has shown more stable performance compared to NASDAQ. A recent Bitcoin price analysis indicates that Bitcoin might have found its bottom amid the year-long fluctuation.
In particular, in 2017 alone, Bitcoin saw a 1,200% increase in price. However, the digital currency began 2018 in a sea of red, which characterized most of the following months. Currently, the cryptocurrency seemingly found a bottom at 60% lower than the December 2017 peak.
Volatility is one thing that is quite synonymous with Bitcoin. It is not surprising that most central banks advise against investment in digital assets. Their fluctuations are too random and risky for investments, the institutions argue.
Interestingly, Bitcoin moved only 0.45% in one month. In particular, the cryptocurrency fluctuated around $6,500 USD for the one-month period from September 14 to October 14th, 2018. However, the DOW (DJI), NASDAQ-100 (NDX) and S&P 500 (SPX) show surprising figures. In the same period, DJI, NDX, and SPX fell 3.62%, 5.60%, and 7.36% respectively. This is quite a different narrative compared to common notions about the instability of Bitcoin.
NASDAQ and Bitcoin Relationship Could Determine the Fate of Wall Street
Further, analysts predict a more interesting relationship between the NASDAQ and Bitcoin as Wall Street warms up to Bitcoin. Huge Wall Street players like Intercontinental Exchange already confirmed that they will be launching crypto-related subsidiaries.
Moreover, Morgan Stanley, Citigroup, and Fidelity Investments are already dabbling in the digital assets. This is an interesting turn of events that analysts believe will mark the watershed moment for digital assets.
Most technology giants are performing poorly. Interestingly, NASDAQ fell over 800 points in just one month period. Also, most tech giants are reporting poor performance in terms of profits. This implies that the stock exchange will still face challenges.
In this light, various assessments predict that Bitcoin will continue to exhibit stability compared to NASDAQ. "It may take decades, but historians will point to this moment as the likely start — the start of when digital assets seemed more reliable than stocks," a blog post observes.
Risk Disclosure
This article should not be taken as, and is not intended to provide, investment advice. Users are ultimately responsible for the investment decisions he/she/it makes based on this information. It is your responsibility to review, analyze and verify any content/information before relying on them. Trading is a highly risky activity. Do consult your financial adviser before making any decision. Please conduct your thorough research before investing in any cryptocurrency and read our full disclaimer.
Join our Telegram Group To Stay Up To Date With Crypto News